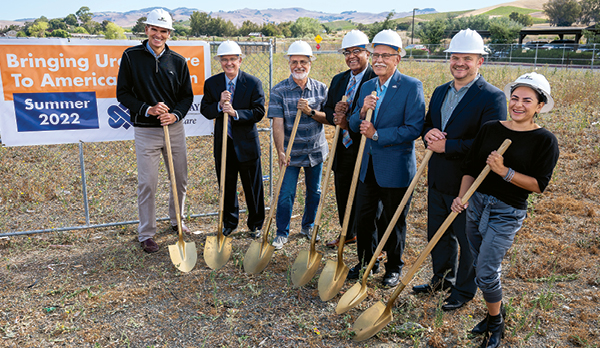 On the heels of establishing two successful urgent care centers amid retail outlets in Vacaville and Fairfield, NorthBay Healthcare, in partnership with Carbon Health, will open a third NorthBay Urgent Care facility in the summer of 2022.
An official groundbreaking in June at 416 Napa Junction Road in American Canyon brought together NorthBay and American Canyon civic leaders, including the mayor and city manager, who are excited to welcome the facility to the Napa Junction Commercial Center.
"We are overjoyed you are bringing these services to American Canyon," said City Manager Jason Holley. "This is what our growing community needs."
The facility will be similar to urgent care centers in Vacaville and Fairfield, with an open and airy design and convenient kiosks for checking in.
NorthBay Urgent Care will lease 4,500 square feet of the new 6,600-square-foot building with the option of expanding into the remaining space with other medical services for the community. NorthBay will invest $1.5 million in building improvements, equipment and technology to operate the urgent care center, which will feature 10 exam rooms, a laboratory to analyze on-site tests and x-ray capabilities.
"Our involvement in offering COVID-19 vaccine pop-up clinics in American Canyon in 2021 helped establish connections and paved the way for the decision to expand to American Canyon, considered the gateway to the Napa Valley," said Wayne Gietz, president of NorthBay Healthcare Group. "We look forward to serving this community."
Vacaville's urgent care is in the Nut Tree Plaza, while Fairfield's urgent care is in a strip mall in the parking lot of Solano Town Center mall, just a block from NorthBay Medical Center. Both are highly accessible for local residents and visitors alike, proving to be a viable alternative to an emergency room, offering shorter waits and lower cost, and an option when a visit with their regular doctor isn't readily available.
The American Canyon facility will be in a commercial center on Highway 29, near areas planned for housing and an industrial park. The facility will offer immediate medical attention for non-life threatening conditions, such as strep throat, broken bones and hives.
The builder is Sierra View General Contractor of Sacramento. The architect is Boulder & Associates with offices in San Francisco and Sacramento.