Over the years, the NorthBay Wine, Brew & Food Jubilee has faced blistering heat, high winds, rainstorms and even numerous venue changes, but overcoming a global pandemic was something organizers just couldn't surmount.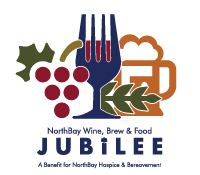 The event, originally scheduled for May 16, 2020, has been rescheduled for June 2021, due to COVID-19 uncertainties.
"The decision to postpone was rooted in the best interests of everyone's personal health, based on guidelines from Centers for Disease Control and Prevention, and from state and local health care leaders," said Scott Reynolds, chair of the 2021 event. "The event requires a great deal of advance planning and we must be sensitive to our beer, wine and food vendors as they face staffing and supply chain hurdles. And, as always, NorthBay Healthcare must put the health of our community first," he said.
All nine 2020 Presenting Sponsors have agreed to roll their financial support over to the 2021 event. All tickets will be honored for 2021 with no further action on ticketholder's part. Anyone wishing to support Hospice in 2020 can donate at NorthBay.org/donate, and more information can be found at NorthBay.org/Jubilee.